My Aged Care
The first step to accessing aged care services for most people, growing older means there are times you find it difficult to manage day-to-day living activities. You may need help, or you may be caring for a friend or family member who needs help, but you just don't know where to start or what help you can get.
Step 1. Find out about what services are available
You may be eligible to receive services such as:
Help at home:

personal care like help getting dressed
transport
modifications to your home like hand rails or ramps
nursing, physiotherapy and other care
meals
household jobs like cleaning or gardening
equipment like walking frames
social activities

Short-term help:

when you have had a setback and want to get your independence back
recovery from an accident or illness, including after a hospital stay
when you or your carer needs a break (respite care)
Step 2. Call My Aged Care on 1800 200 422
You will be asked questions over the phone to help work out your needs and care arrangements – this takes at least ten minutes.
You will need your Medicare card.
If you would like someone to call My Aged Care for you, you will need to give them your consent.
If you're calling for someone else, they will need to give their consent.
Step 3. Have a face to face assessment
My Aged Care may arrange for a trained assessor to come to your home.
With your consent they will assess your care needs and eligibility for services and work with you to de-velop a support plan which addresses your needs, goals and preferences.
Someone else can be with you during this visit.
Step 4. Find out about costs
My Aged Care and service providers can give you information about costs. You will be told if you need a financial assessment.
Step 5. Choose services
The service finders on the My Aged Care website can help you locate and compare some services in your area once you know which type of care you are eligi-ble for.
Your assessor and My Aged Care can also help you find a service provider(s) in your local area that meets your needs.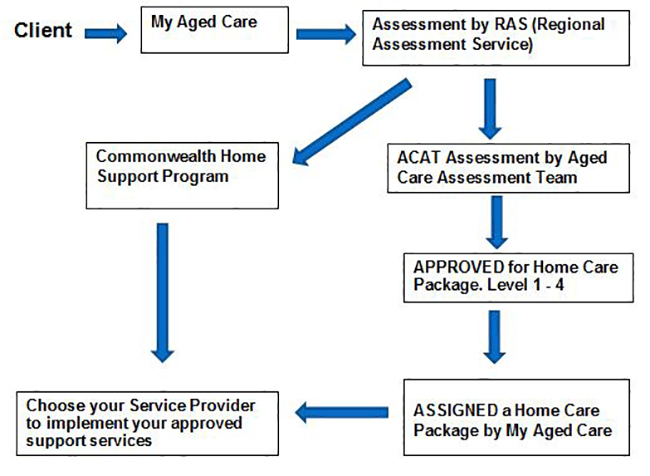 For more Information
For further information about My Aged Care please visit the My Aged Care website at www.myagedcare.gov.au or call 1800 200 422