Town Parks
Discovery Park
Located between the Flinders Discovery Centre and Flinders Shire Public Library this beautiful park connects through to the central business district via a paved walkway. The park features lovley gardens, a grassed area, water fountain and seating area.
Robert Gray Memorial Park
Robert Gray Memorial Park is dedicated to local characters and pioneers of the district. Plaques have been placed on the rocks scattered along the footpath winding through the Park. Facilities include free BBQ's, shaded picnic areas and public toilets.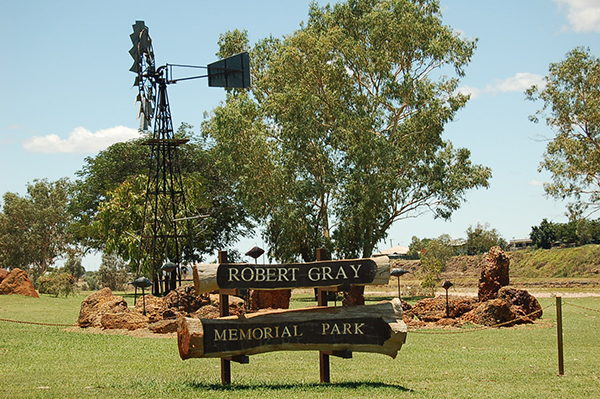 Eco Walk on Flinders
Enjoy a walk along the diverse bioregions of the Flinders Shire at the Eco Walk on Flinders. These eco-systems have been replicated along the northern banks of the Flinders River with over 1.5km of walking tracks. Throughout the Park there are picnic shelters, tables, viewing platforms and drinking fountains. Flora species from each different eco-system have been represented throughout. Along the pathway are local art pieces illustrating important historical events and various cultures of the Flinders Shire. Facilities include: picnic shelters and drinking fountains.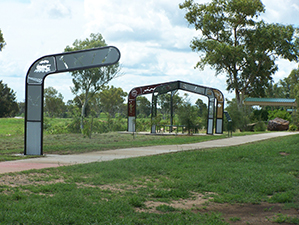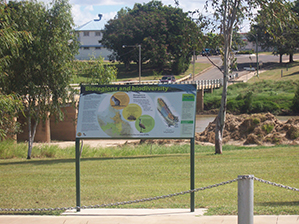 Brodie Street Playground
Take the children to enjoy the newly revamped playground, featuring shaded play equipment and a bike path including safety signs, roundabouts and pedestrian crossings providing education on road safety in a "hands on experience". Located behind the ANZ Bank and across from the Post Office in Brodie Street, the park also boasts picnic tables, free BBQ's, new landscaping, secure fencing and public toilets.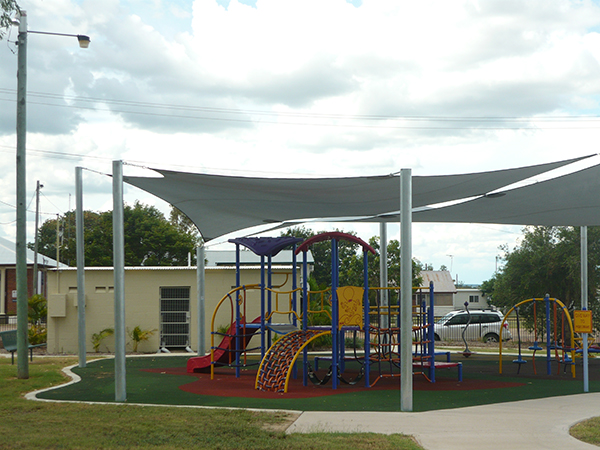 Skate Park
Conveniently located next to the Town Swimming Pool, the Skate Park provides a recreational area for for not only local youth but those travelling through as well. This park features two skate areas, half court basketball court, BMX track and a playback wall. With a large shade area over the main skate area, this space is a great way to spend a couple of hours with the olders kids in the family.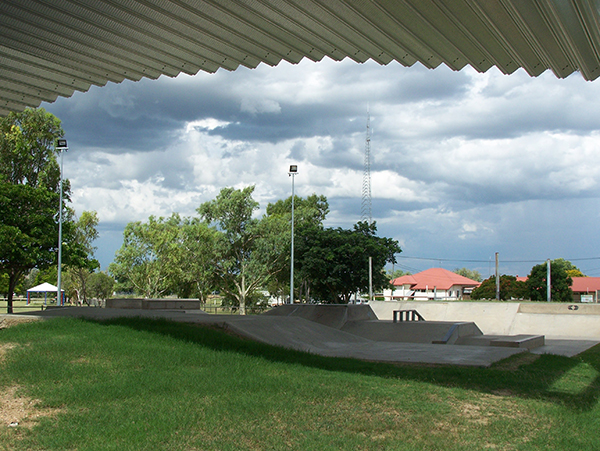 Apex Driver Reviver Park
Driver Reviver is a community-based road safety initiative of the Department of Transport and Main Roads and the Queensland Police Service and is operated by volunteers. Hughenden Driver Reviver is available at the Park situated on the main highway towards Richmond. The Apex Driver Reviver Park facilitates include public toilets and shaded areas.
Bully Playford Park
Located on the Highway towards Townsville adjacent to Flintstones Service Station, the Bully Playford Park offers picnic tables, public toilets and a shaded area.
Prairie Park
Prairie Park houses the 35 ft comet windmill and is located in the centre of town along the Flinders Highway. The park also features a old jail building recently refurbished into a public toilet. Enjoy the lovely shaded area with picnic shelter as well.