Past Successful Applicants
Flinders Shire Community Small Grants Past Successful Applicants
2017 / 2018
Round One
Returned Services League of Australia (Queensland Branch) Hughenden Sub Branch Inc.
RSL Hall Upgrades - $8000.00
This community group has obtained this grant to assist them in upgrades to their existing facility. Repairs include a new steel roof over the RSL Hall deck area and repair and paint the exterior.
These works will improve the amenity and usage of the building and as it will require less ongoing maintenance take some of the pressure off a small number of volunteers. The facility is regularly used by many in our community including for RSL commemorative activities, government health programs (Tai Chi for Diabetes and Arthritis) workshops, training and a range of cultural activities.
Hughenden Amateur Swimming Association
Purchase new lane ropes and training equipment - $4978.38
Funding was sought to assist the club purchase new ropes and training equipment due to the currently available equipment being sun-damaged. This equipment will assist the Club in the running of their club nights as well as their annual carnival. Many community members will benefit from these additions, for example, the schools in the area and the Learn to Swim classes.
Round Two
Prairie Jockey Club
Renovation of Secretary and Tote Room - $963.00
A new layer of cement on the existing floor, repairs to benchtops and insulation to cool rooms down. The local community and racegoers will benefit from these repairs and ensure a safe environment for Prairie's biggest event of the year.
Flinders River Roping
Purchase of speakers for events - $1,384.00
Replacement of old speak system that is used for community events run at the Flinders River Roping Arena.
Hughenden Gymnastics Club Inc
Purchase and installation of Tumbletrak and Safety Matting in the Gymnasium - $10,460.00
Funding was sought to buy and install a Tumble Track, Springboard and new matting in the Gym. These pieces of equipment are vital from beginner to elite athletes. They are essential in the Safety and the development of the gymnast's skills and levels achievable.
2016 / 2017
Round One
Stamford Sports Club Inc.
Garden Maintenance Program - $3198.00
Funding was sought to assist the club purchase vital equipment including a lawnmower and whipper snipper for an ongoing garden maintenance program in Stamford. The need for streamlined garden maintenance program had been identified at a number of committee meetings and more recently at the Stamford Community and Council meeting held in October 2016. All community groups in Stamford will benefit from this funding and the outcomes will leave a positive impression on travellers and reflect positively on the community.
Lions Club of Hughenden
Fitting Out / Refurbishing of Van to be used as a mobile catering van - $7480.00
The Lions Club of Hughenden have obtained this grant to complete works on a van to make it registerable and it will be used as a catering van. Mobile catering van will be used for various functions within the Flinders Shire boundaries, whether it be for Club activities or for use at private functions. The van will be made available to anyone or organisation who wishes to utilise it.
Hughenden Country Music Association Inc
Purchase of Office Equipment - $974.35
The Hughenden Country Music Association Inc had previously not had any of the equipment required to run their festival and were relying on volunteers equipment. The equipment is required to be used at the music festival to assist with printing of certificates and collating scores etc. and in general club office duties. Committee members will benefit greatly from this purchase as well as the wider community by ensuring the smooth running of a very important community event.
Round Two
St Thomas Anglican Church
Supply and Install Speaker System in Church - $2500.00
The grant will provide a reliable sound system in the church enabling everyone in the building to hear proceedings, especially at community funeral when there are larger numbers of people present. The system is currently old, outdated and unreliable; and does not cater to the back area to the assembled congregation. All the members of the Flinders Shire community will benefit from this upgrade as a large number of the Flinders Shire funeral are conducted at this venue.
Flinders River Roping Association Inc.
Upgrade of Community Area - $9500.00
This project will work on upgrading the community area so the arena can be utilised for more community events. It is proposed that a shelter will be built with a concrete floor so spectators can have cover from the weather. This covered area will also be used as a canteen area. Pool fencing will be erected around the community area, therefore fencing off spectators and competitors and animals and to assist in keeping children from traffic.
2015 / 2016
Round One
Prairie Town Rural Fire Brigade
Prairie Fire Shed Fit Out - $3647.00
To purchase storage sleeving for shed, levelling of the site, water tank installation, purchase of office equipment and furniture. The Prairie Community, as well as outlying areas, will benefit from this project as well as the Hughenden Community as Prairie act of back up to this brigade.
Hughenden Golf Club
Food Preparation Area - $3218.81
The Hughenden Golf Club were able to install a gas stove and 2 stainless steel mobile benches in the kitchen of their clubhouse, thanks to Community Small Grants. The members of the Golf Club and people of the community will benefit from the upgrade to the Food Preparation Area because it is used by several organisations for fundraising for different charities.
Hughenden Jockey Club
Shelter and Equipment Purchase - $14000.00
The Hughenden Jockey Club was successful in obtaining a grant for the purchase of a shelter, chairs, tables and wheelie bins. These additions to the Race Club facility will relieve pressure on volunteers with setting up and pack up of equipment for the event. The club also has interests in hosting dinners under the stars and cater for tour groups in the near future.
St Vincent de Paul Society Queensland - Vinnies Hughenden
Accessibility Modifications - $2905.00
This grant allowed Vinnies to install a new access ramp into the building. This project has improved the accessibility to the Vinnies shop for the elderly volunteers as well as customers with a disability and the vulnerable and disadvantaged people the organisation supports within Hughenden and surrounding communities. Accessibility improvements will also encourage other community members to engage in voluntary work with their local community.
Round Two
Oakley Amateur Picnic Race Club Inc
Power Upgrade - $3600.00
OAPRC Inc applied to upgrade the power supply outlets in the kitchen to 20 amp and 32 amp. As their event increases in size, they had to rely on diesel generators to give more access for caterers and performers. Many people within our community will benefit from these works such as OAPRC members, guests, family and the wider community associated with Kooroorinya Race Meet and other community events held at Kooroorinya.
2014 / 2015
Hughenden Jockey Club
Stage 1 Administration and Amenities Block - $15 000
The Hughenden Jockey Club was able to race locally at the Hughenden Racecourse again in 2015 - without the facilities funded by the Community Small Grants Fund, the races would not go ahead. For the community, it has built part of the new facility and enhance a badly neglected grounds area for use by other clubs for functions and events as well as opening it up to public and private functions.
These race events have been around for over 130 years and if lost, would have been another major blow for our already struggling community. The building of these new facilities at the Hughenden Racecourse will allow for more general community use and building better partnerships with the adjoining Flinders Hack and Pony Club and the Flinders Horse Sports who currently adjoin the racecourse grounds.
The Hughenden Races were once a major event in the community bringing many genres of people together as a vibrant and healthy centre. Regionally this club has the opportunity to build their event into a major regional experience bringing people from adjoining shires and further afield to enhance the local economy and promote the local area and region. Building the event with marketing for tourism opportunities in the future will not only enhance the event itself but add to the economic growth within Hughenden and adjoining towns.
These facilities will also bring the club in-line with essential minimum venue and equipment standards required by Racing Queensland, without adhering to these standards the club will not only be able to race but will more than likely face losing the club and events.
These facilities will also be available for use when the Flinders Hack and Pony Club and the Flinders Horse Sports Club have gymkhanas, horse skill schools and general pony club events. With the availability of new showers and toilets, it will allow for camping opportunities to also build all of our events.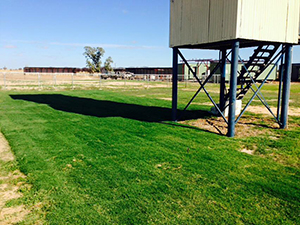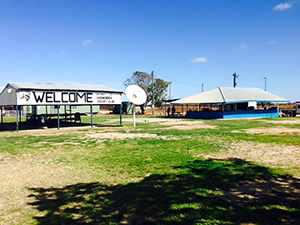 Hughenden Kindergarten and Early Childhood Centre
Outdoor Area Upgrade, Installation of New Turf - $3000
The Hughenden Kindergarten and Early Childhood Centre are a not for profit service. The centre is community-based and offers an Approved government kindergarten program two days a week and 5 days of quality child care for families 48 weeks a year. At present, services employ 8 staff. The Hughenden Kindergarten and Early Childhood Centre is a standalone service which receives no financial support from the local council. This is rare, with many other remote area Centres relying heavily on Council support to operate. We are supported by limited federal government funding and fees paid by parents. The Centre supports the community by setting fees at an affordable rate and providing qualified educators to support young children and their families who live and work in the community.
Upgrading to new natural and artificial grass has allowed the children to engage in quality experiences in their natural environment and be able to experience physical play in a safe and secure area. The childcare centre engages children in physical activities for good health and the skills they learn will benefit them in the future. This new outdoor environment has become more inclusive, promotes competence, allows independent exploration and learning through play and children gain an understanding of becoming sustainable and developing links with the local community. This project will also support the Centre's future sustainability plans.
Children will benefit from this upgrade by being able to play in a safer environment, without having to worry about the sand on the footpath and prickles in the grassed area of the outdoor play area. Our daily program allows children to have long physical activities outdoors as this an important part of the lifestyle we experience living in Hughenden. This upgrade will allow more regular access to the outdoor environment for all ages and will incorporate more natural features for children to explore this environment.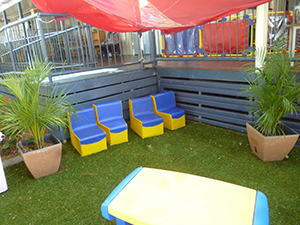 Queensland Country Women's Association (Hughenden Branch)
Painting the Exterior of Building - $5400.00
The outside of the Q.C.W.A. building was repainted to preserve the structure for the benefit of the Hughenden Branch as well as meeting groups and those who use the Q.C.W.A. accommodation facilities. This group has a strong emphasis on friendship and as a local fundraiser for charities.