Hughenden Showgrounds
The Hughenden Showgrounds is the major sport and recreation facility and public events hub for the town and Shire. The Showgrounds has developed into a multi-use facility servicing much of the Shire's sport, recreation and outdoor event needs.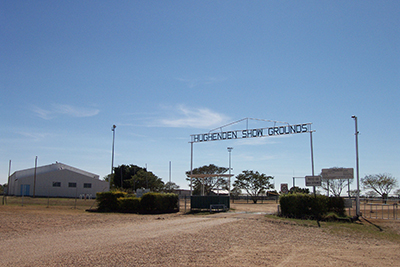 The facility includes:
Grassed arena/ring (with lighting)
Pavilions and halls
Kitchens and bars
Office facility
Extensive cattle yards
Club house
Storage facilities
Covered indoor arena
Multiple show and toilet block
The precinct consists is well established, with permanent users including:
Hughenden Show Society
Rugby League
Pony Club
Gymnastics
Campdraft
Performance horse sports
Relevant documentation:
For more information and bookings please contact:
Hughenden RV Camp Grounds
The Flinders Shire Council RV Camp is located outside the Hughenden Showgrounds. It is located a short distance away from essential facilities such as medical services, fuel, pharmacy and grocery stores. The camp is designed to accommodate fully self contained RV vehicles and caravans for a maximum of 7 days.
The camp is clearly identified with signage that outlines conditions for use of the camp. It also identifies that a permit is required in order to stay at the camp. Permits are issued at the Flinders Discovery Centre where there is currently no charge for using the site.
Visitors are required to agree and declare that their accommodation complies with the following conditions:
Is fully self-contained (no portable shower or toilet accepted)
Has grey water holding tank
Has a black water holding tank or toilet cassette.
Conditions of camping are as follows:
No dumping of black/grey water on ground or trees – dumping facilities available in RV Park or McLaren Street (a map is provided with each permit)
No dumping of garbage
No open fires – fuel stoves only
Pets allowed must be restrained
Silent running generators are allowed between 9am and 5pm and must be sited adjacent to the vehicles (i.e. <2 metres) and not in the creek bed
Local events will take precedence over motor homes/caravans e.g.; camp draft and local show
Council has the right to move on any suitable vehicles or non paying visitor from the site
All campers must register and have a permit displayed.
Permits are available at the Flinders Discovery Centre between 9am – 5pm and after hours with the showgrounds caretaker.